If you need a new RV look no further than RVUSA! Every week on Monday, RVUSA features the RV of the Week. These units are feature packed and have a high potential to be the RV of Your Dreams!
Today we feature the New 2017 Aliner Expedition. When compared to other RV trailer types, Aliner Pop-Up Campers are smaller, lighter, and are easier to tow. Pop-up campers are perfect for people that need a place to camp after fishing or hunting, or a quick place to sleep at a weekend long concert or staying to camp at the springs, the possibilities are endless!
The inside of the 2017 Aliner Expedition is small but packed with features including a furnace, refrigerator, stove, enclosed water tank, microwave, stove, water heater, air conditioning, and fans. The exterior comes with a power roof vent, skylight, external shower, spare tire kit and tinted windows. Be sure to check out the feature rich, lightweight Aliner Expedition Pop-Up Camper.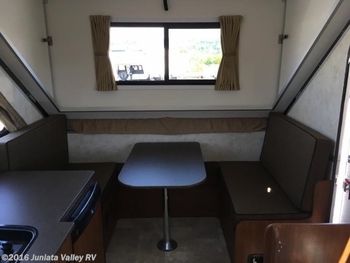 RVUSA is dedicated to connecting you with the RV of your dreams!