Today we're looking at the 2019 Tommy Bahama Airstreams. If you're looking for the perfect RV to fit your adventurous, free-spirited soul, then you've come to the right place. These two brands have come together to create an amazing, luxurious special edition travel trailer. Tommy Bahama was made for those who are ready to see what the world has to offer. Made for adventure, this travel trailer is tough enough to take you anywhere you want to go and comfortable enough to enjoy the time you spend once your reach your long-awaited destination. Tommy Bahama Airstreams are lightweight and towable with most SUVs and they comfortably sleep two and seat five. These two brands have found a way to pack everything you need into one versatile trailer that's just as ready for quests as you are. Keep reading for all the awesome details!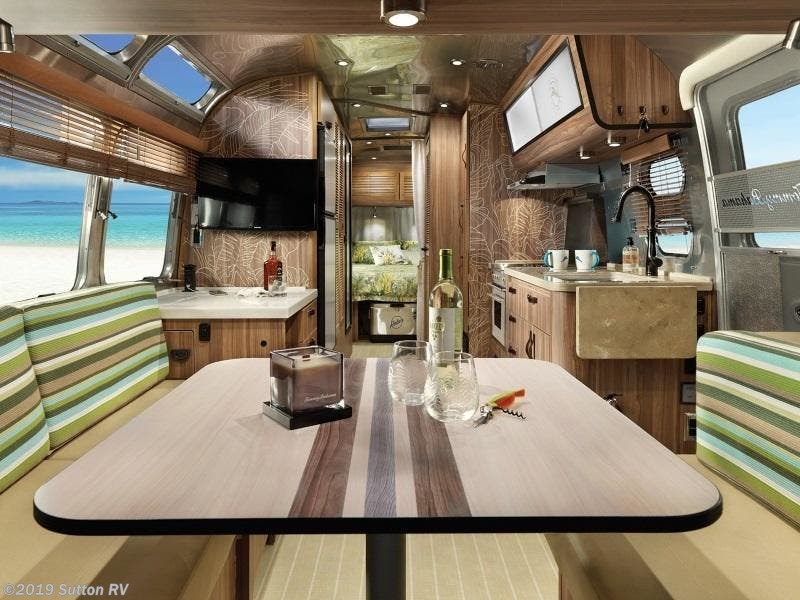 Tommy Bahama and Airstream
You'll see the influence of Tommy Bahama right when you walk in because of the hand-crafted, laser-etched aluminum screen door. You'll also see the Tommy Bahama accessory kit! Once you step in, every detail will make you feel at ease with its sophisticated surroundings. The luxury is in the details: you'll get to use hardwood louvered doors, custom leather handles, and infinity woven vinyl flooring is beautiful yet durable.
The luxury doesn't end there! These Tommy Bahama's come with top of the line appliances, like the stainless steel 3 burner gas stove, and a Kohler sink with LG Hi-Macs sink cover. The laminate dinette has a surfboard inspired top that's surrounded by Ultraleather Tommy Bahama themed upholstery for seating. And these travel trailers are always ready to party! The bar comes with glassware storage and an ice maker to keep your drinks icy cold. There's also secure storage for wine and liquor so you won't have to worry about any of your beverages slipping out of their spot.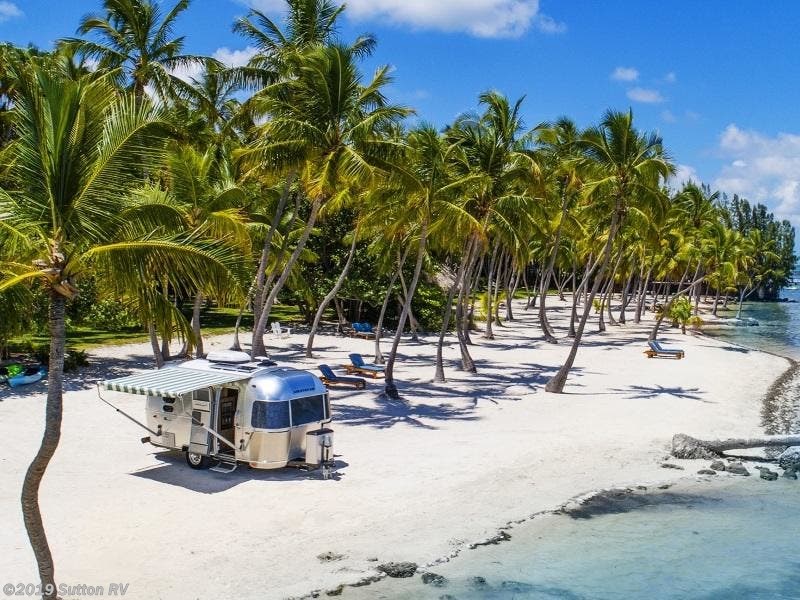 Entertainment Done Right
Towards the back, you have the rear hatch that opens up to let the sea breeze flow in through the screen or close it to keep it cozy at night.
Whether you want to relax or turn up the tunes for entertainment, it's up to you. Use the Polk Stereo XM/FM/AM Satellite Radio with Bluetooth to rock to your favorite music whenever the mood strikes. The special edition Tommy Bahama's feature all the technology you'll ever need to entertain your guests!
After a long day at the beach or a strenuous hike, wash it all away in the Tommy Bahama's spa-like bathroom. Enjoy the porcelain toilet, Lavy sink, Kohler faucet and the towel ring to save counter space. Hop into your inviting bed at night that has the pillow top memory foam mattress and the Tommy Bahama comforter that matches the theme of the trailer. In the morning, you'll be greeted with the sun and the great views from the panoramic windows. There's also tons of storage space under the bed for clothes and accessories. It even comes with a Tommy Bahama cooler.
With two floor plans, you get to choose whichever one fits you best. With impeccable design and comfort, Tommy Bahama Special Edition is made with you in mind.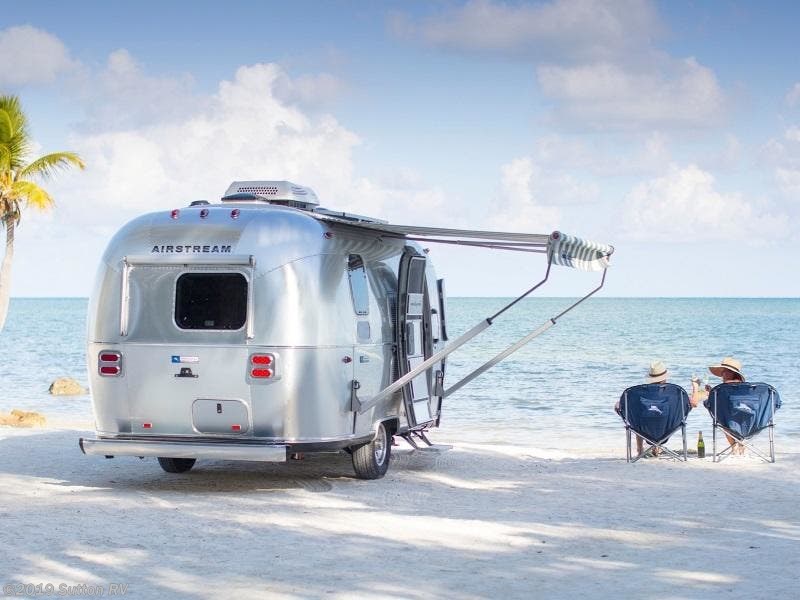 Looking to Buy a Tommy Bahama Airstream?
RVUSA.com has plenty of these amazing travel trailers for sale on their website. The 19CB floor plan is only $83,900 while the 27FB is just $124,000, both from Sutton RV in Eugene, Oregon. Not close to Oregon? Not a problem. RVUSA has you covered with other dealers across the United States. Check em out now before they're gone!
Don't forget to stay up to date with all of our exciting RV and camping content on Facebook, Twitter and Instagram!