Every year RVBusiness Magazine names their pick for RV of the year. This year's winner is made by one of the most innovative RV manufacturers in the world, Airstream. Read more about the 2017 Airstream Basecamp Travel Trailer below.
Airstream hopes the unique and aerodynamic design of the new Basecamp trailer, along with the $35,900 price tag will appear to a younger buyer who loves adventure. The Basecamp is sleek and lightweight, coming in at 16 feet long with a base weight of 2,585 pounds and a 3,500lb GVWR. While the size and shape of the trailer make it easy to tow with small and mid-sized SUVs and crossovers, the spacious interior provides for a comfortable camping experience wherever you go.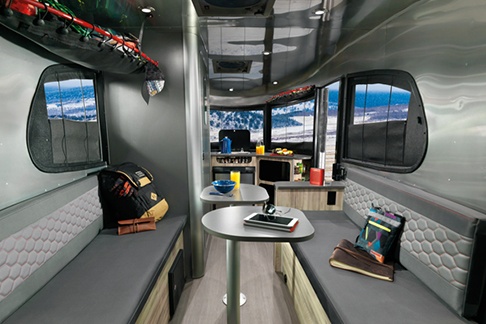 Airstream recognized the needs of the outdoor thrill-seeker when they designed the Basecamp, including a rear hatch to help carry equipment for mountain biking, fishing, hiking, snowboarding and more. The inside includes traditional features of a travel trailer such as cooking area, bathroom, shower, and convertible back end for sitting and sleeping.
RVBusiness wasn't the only one to see the greatness in this new RV; the Basecamp has been receiving national recognition since it came on the RV scene. The Airstream Basecamp made the Inside Hook's list of "52 Best Products We Covered in 2016," along with Gear Patrol's "GP100" for top products. Airstream Basecamps have now hit the market, and can be found at Airstream dealers across the country. To find a 2017 Airstream Basecamp for sale, click here.
Save
Save
Save
Save