RV owners around the country are using their empty rigs for good with the help of a Facebook group that matches RV owners with medical professionals so that our nurses, doctors, and other front line medical professionals can have a place to strip down, clean up, and isolate after a long shift at the hospital.
While the majority of us are currently on lockdown in our homes, many Americans continue to go to work on a daily basis. These essential workers are putting their own health, and the health of their families, at-risk every time they step out of the house, and this rings especially true for our medical professionals.
Doctors, nurses, CNAs and LPNs are putting themselves on the front line of this fight against COVID-19. Our medical professionals are sacrificing every day so that we can quarantine safely. They are there fighting for us and treating the ill.
One of the biggest worries from our medical professionals at the moment is not for their own health, but for the health of their families. In an attempt to negate the potential spread of the virus, many people have taken to stripping down outside of their homes after a shift. Clothes go directly in the wash at a high temperature. Then a path is walked directly to the shower in order to fully clean oneself.
Even with all of these precautions though, there is still a chance that our health care workers are risking infecting their loved ones. That is where RVs 4 MDs comes into play!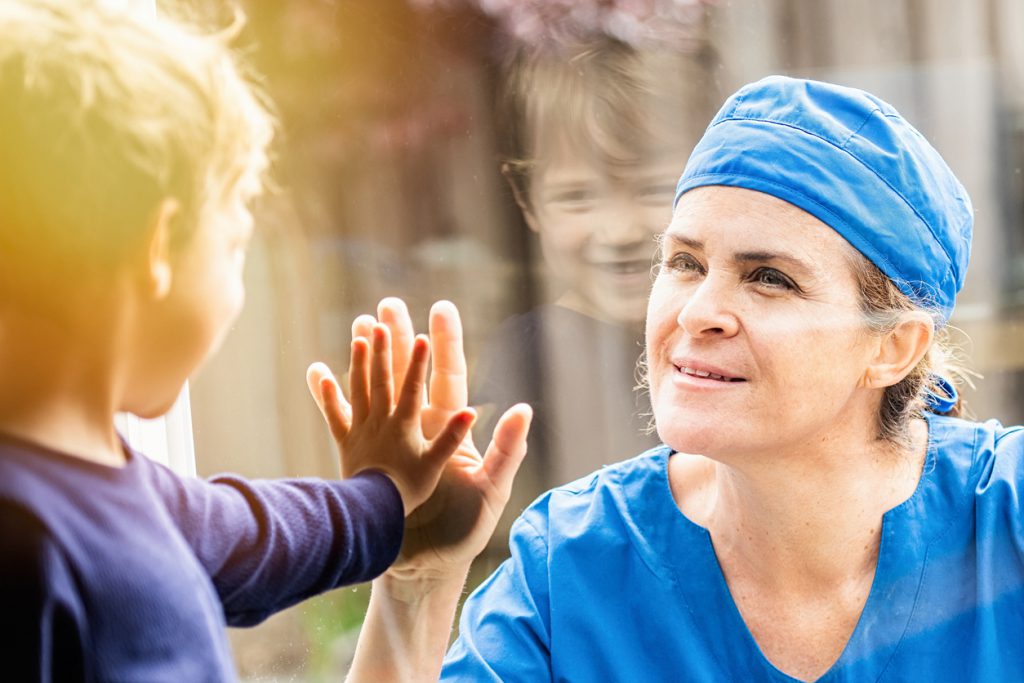 The Facebook Post that Started a Movement
Emily Phillips, a mom of three from Texas, had posted on her Facebook recently asking is anyone in her circle happened to have an RV that her family could use. You see, her husband is an ER Doctor, and was struggling with the possibility that he may cause his family to get sick.
They thought about renting a hotel room, but that still would put him far away from family. When Emily's mom suggested asking her friends about an RV, the pieces started to fall into place. With a borrowed RV, Emily's husband could live separate from his family but still in the driveway of his own home.
Emily's friend Lynn answered the call of the family in need and offered up her RV for Dr. Jason Phillips to live in during the uncertain time.
After receiving an RV and experiencing the kindness of people on the internet, she decided that it was important to help others who may be in the same situation as her family was.
That is when Emily and Lynn created the Facebook group RVs 4 MDs in order to connect RV owners with medical professionals.
Strangers Coming Together To Help Our Healthcare Heros
In only a matter of a week, the two Texas moms were able to build a Facebook group filled with eager volunteers, a board of directors, and individuals nationwide who want to simply do their part to help healthcare professionals.
"People are coming out of the woodwork, that once felt powerless – and now they have purpose", said Founder, Emily Phillips.
Since it's humble beginnings in mid-March, the Facebook group has grown to over 24,000 members and is currently matching people all over the world in the United States, Canada, Australia and Dubai!
If you are a medical professional looking for an RV to reside in during this pandemic, RVs 4 MDs can help you! Just join their Facebook group and fill out this google doc so they can help get you matched with an RV owner in your area.
If you are an RV owner who wants to join the fight and help one of the healthcare heroes by offering up your RV as temporary housing, fill out this google doc and be a hero to a family near you.
The mission of RVs 4 MDs is to connect RV owners willing to donate their mobile accommodations to front line medical/healthcare worker and first responders, who need of a safe place to quarantine in order to protect their own families during the COVID-19 pandemic
Interested in volunteering? Send an email to Amber Bouton at [email protected].