Once you've hit the highway in your camper, it's incredibly difficult to go back for items left behind. Even worse is realizing you forgot to bring essential items when you're setting up the campsite. Rather than scrambling to find the closest convenience store or figuring out how to do without, consult RVUSA's complete RV packing list. We've listed anything you might want to pack, from optional toys to the most important first aid supplies. Consult our list before you pack for RV travel this season to set your mind at ease.
RVUSA's RV Packing List
RV Supplies
Oil/coolant
Wheel chocks
Jumper cables
Power adapters
Leveling blocks
Toilet/sewer kit
Water pressure valve
Paperwork
Campground reservation confirmation
Vehicle insurance info
Health insurance info
Personal ID (ex: driver's license)
Cash
Credit cards
Emergency phone numbers
RV registration
Clothing Basics
Weather-appropriate pants
Weather-appropriate shirts
Socks and underwear
Pajamas
Glasses
Watches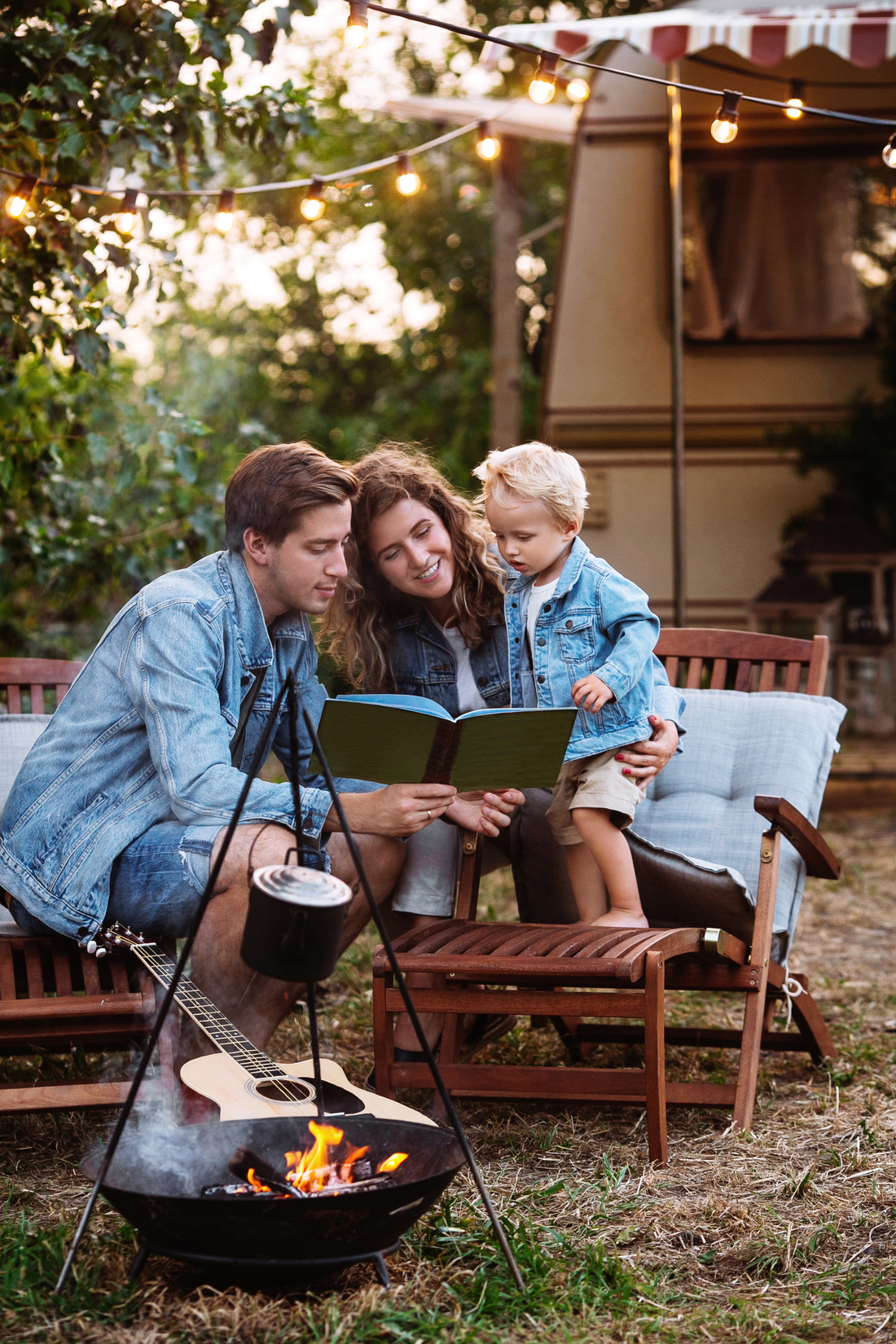 Outdoor Clothing
Tennis shoes
Sandals
Jackets
Bathing suits
Hats
Rain gear
Sunglasses
Bathroom Supplies
Shampoo
Conditioner
Body wash
Face wash
Hand soap
Shaving cream
Deodorant
Toothpaste
Tooth brush
Shower shoes
Self-Care
Makeup
Lotion
Feminine products
Hair brush
Hair ties
Indoor Entertainment
Board games
Card games
Coloring books
Markers
Books
Magazines
Children's toys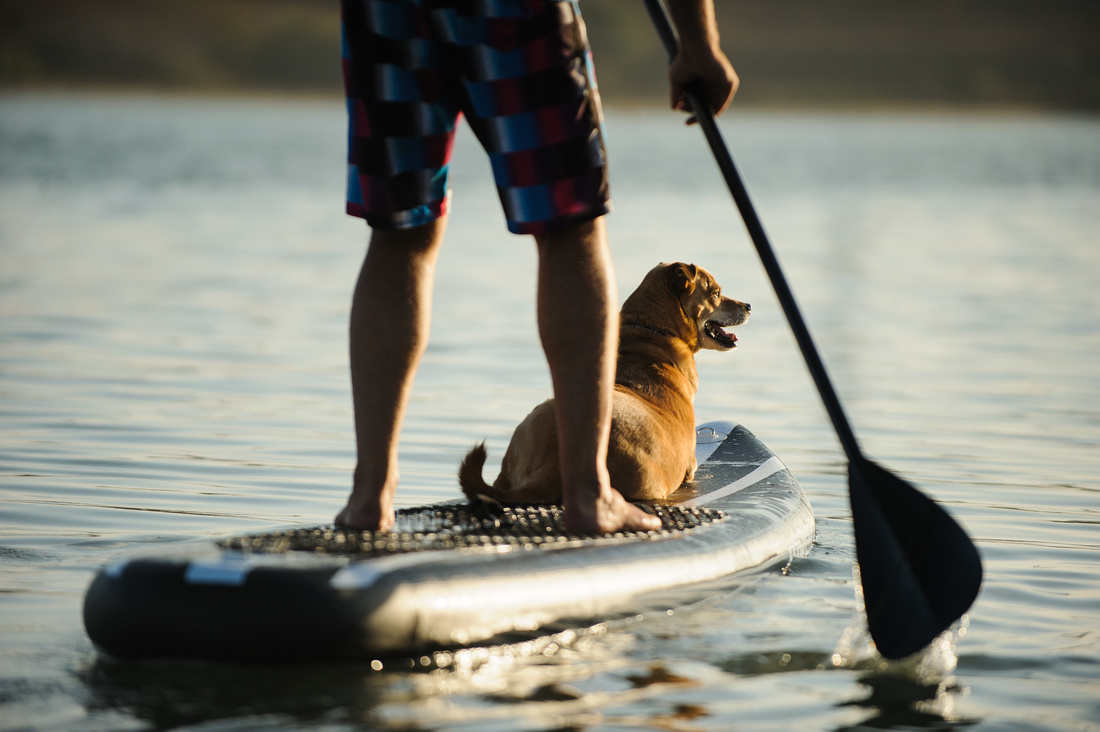 Outdoor Entertainment
Paddle boards
Kayaks
Boogie boards
Fishing gear
Bikes
Scooters
Pool toys
Tools & Utility
Duct tape
Socket wrenches
Screwdrivers
Hammer
Scissors
Pocket knife
Tarp
Spare batteries
Food Prep
Oven mitts
Blender
Aluminum foil
Dish towels
Sponge
Dish soap
Water bottles
Water filter
Strainer
Cutting board
 Plates
Cups
Silverware
Mixing spoons
Spatula
Can opener
Wine opener
Cutting knives
Paper towels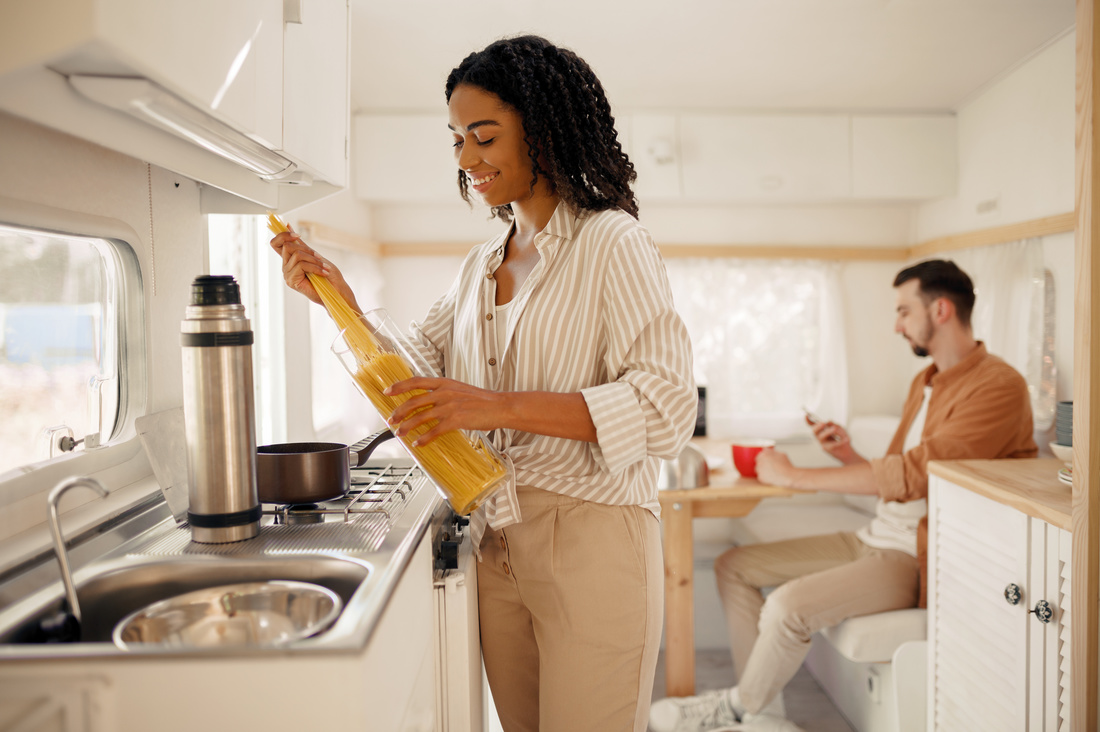 Cooking
Skillet
Pots and pans
Baking dish
Coffee maker
Toaster
Grill lighter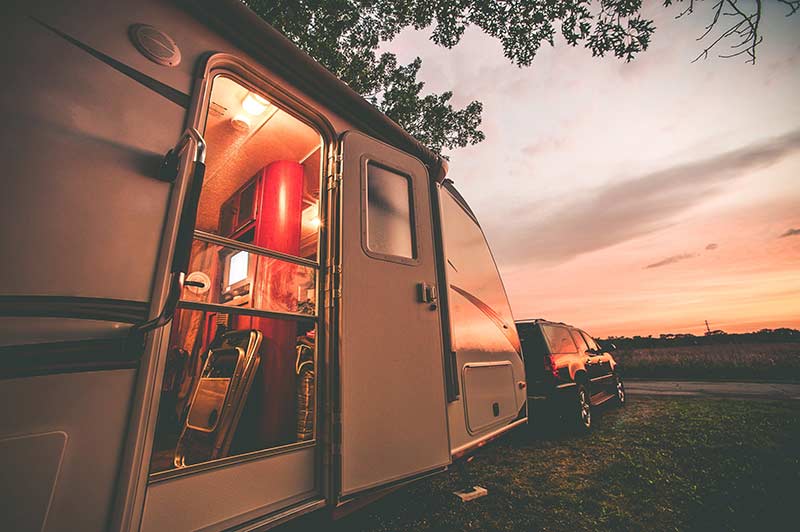 Still on the hunt for your dream RV?
Pet Supplies
Collar with tags
Leash
Food and water dishes
Pet food
Treats
Cleanup bags
Pet bed
Miscellaneous
Umbrellas
Binoculars
Folding chairs
Keys
Flashlights
First Aid & Personal Items
Bandages
Tylenol
Sunscreen
Bug spray
Prescription medication
Fire extinguisher
Antacids
Aloe vera rub
First aid kit
Though this is a long list of items to pack for RV travel, every RVer's list will look different. We recommend using this list as a base, and adding and removing items as necessary. Then, save your list on your computer or tablet with an organizational app like Todoist or Notion. That way, it's easy to refer back to every time you're packing for another trip. If you need to shop for items to complete your RV packing list, visit our RV essentials store!
Ready to find an RV for your adventures?