MyRVUSA makes online RV Shopping easy. save your searches and favorite listings, compare prices and floorplans, all in one place!
In today's day and age, if we can't shop online, we probably feel like we don't really need whatever it is anyway right. Everything we do is connected to the internet pretty much. We shop for homes, groceries, clothes, and more all from the comfort of our own homes, and RV shopping is no different.
When shopping for a new RV, most of us want to be able to browse all of our options online. We want to be able to look around at floorplans, makes, models, and compare prices. Really, we all just want anything that will make our RV shopping experience easier, right?
I have been shopping for travel trailers for my family recently, and with everywhere I have been looking, I have found that using the MyRvusa feature on RVUSA.com has really simplified my browsing experience.
Easy Online RV Shopping with MyRVUSA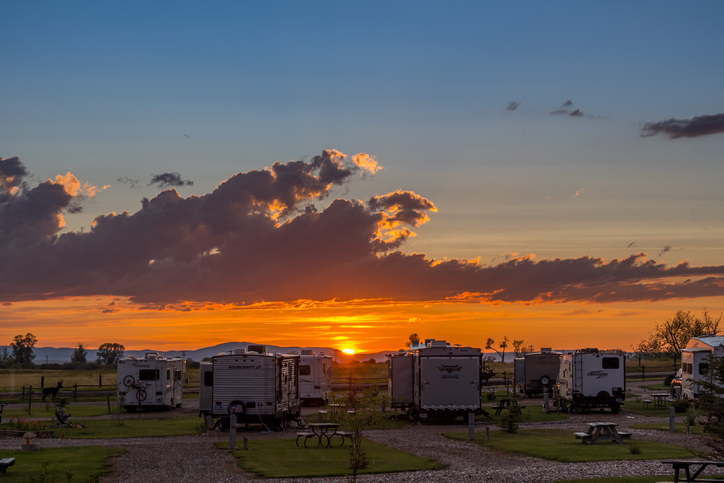 What is MYRVUSA?
On RVUSA, you can create a MyRVUSA account to make your online RV shopping simple. It is a free account that allows you to basically have an RV dealership at your fingertips.
Sign-up takes just a minute. After putting in an email address and picking a password, you are good to start shopping. Within your account, you can save your favorite listings, look back at campers you've recently viewed, and save your favorite search filters.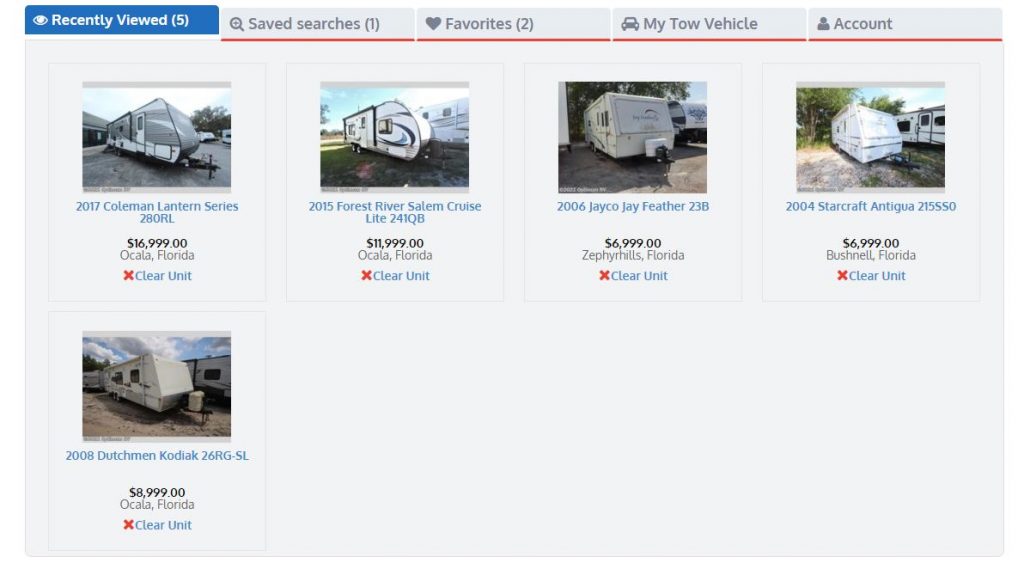 As you can see, I have been looking at travel trailers for sale. With MyRVUSA, as I am going along browsing campers for sale, I can easily go back and look at some of the listings that I previously viewed.
This is so handy for when I am browsing and looking and want to go back to something I viewed hours ago but can't quite remember what it was. You know we have all been there. Shopping online and we remember something hours later that we want to look at, but we can't find exactly what we were looking at. I can't be the only one! MyRVUSA saves all of the units you have previously viewed! Making it easy to go back and contemplate what you want to but.
Save Your Favorite RV Listings
If you find a few RVs that you are really liking and want to compare and really contemplate, you can save them to your MyRVUSA favorites.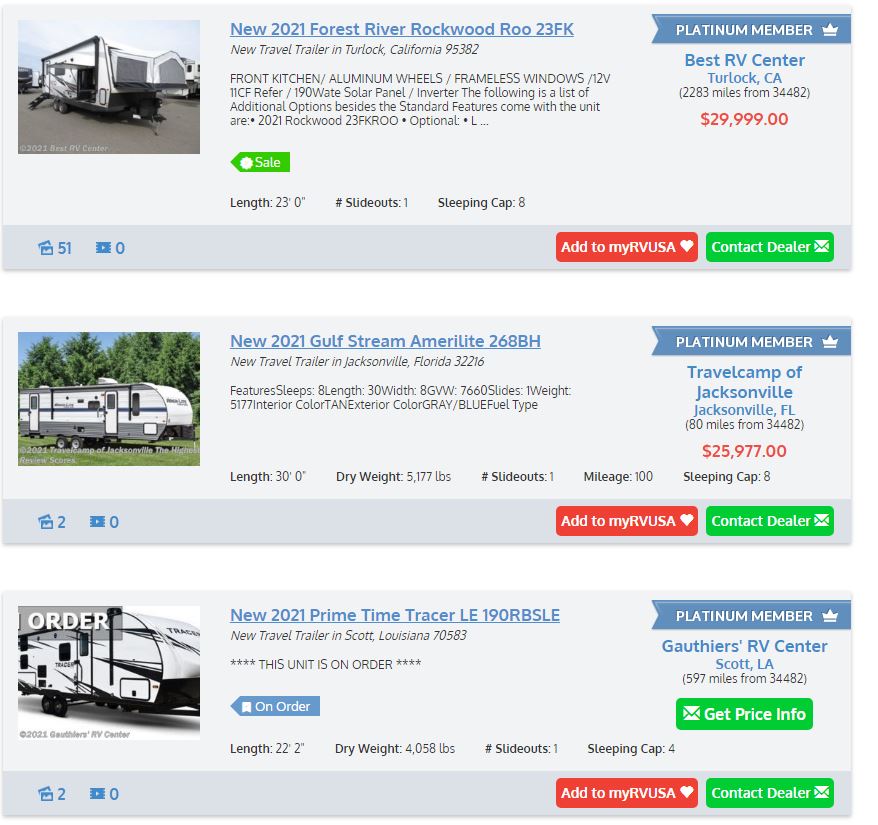 As you can see, you don't even need to actually click on the listing in order to save the listings. You can do it right from the main feed filter. Just click on "Add to myRVUSA" and your listing will be saved to view any time.
If you land on a listing you love and want to view later, you can just click the "Add to MyRVUSA". Then right away you have that RV saved to your favorites!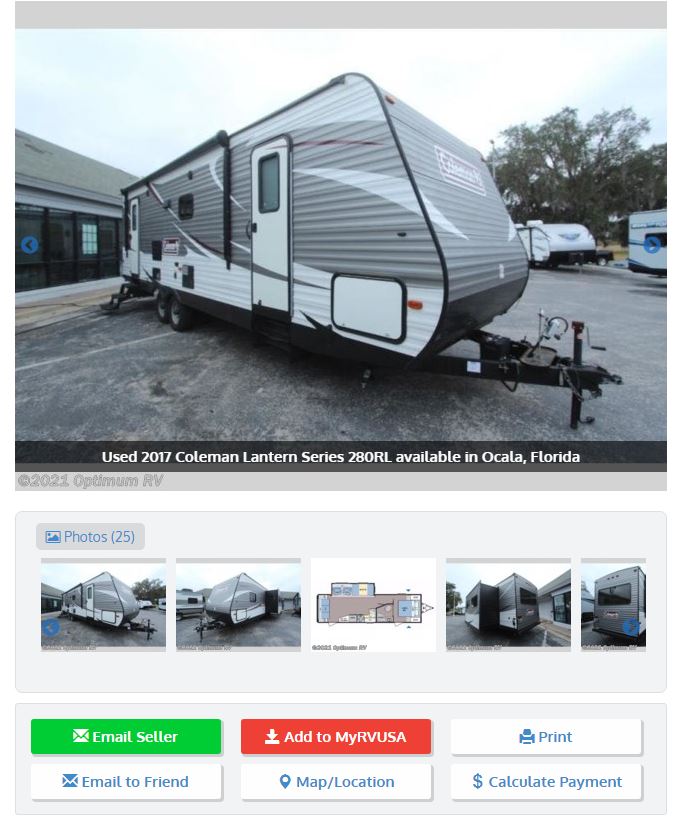 Still, browsing for your perfect RV? No problem! You can save your search filters too and come back to them at any time.
You can see below, that I have saved my travel trailer search filter so I can easily come back and see if there are any new campers that meet my specific criteria.

Not sure what your vehicle can tow?
Maybe you are super new to shopping for RVs and you don't even know what your vehicle can tow. That's no problem either. RVUSA has a simple tow guide where you can plug in all of your vehicle information and find out exactly what your truck's towing capacity is.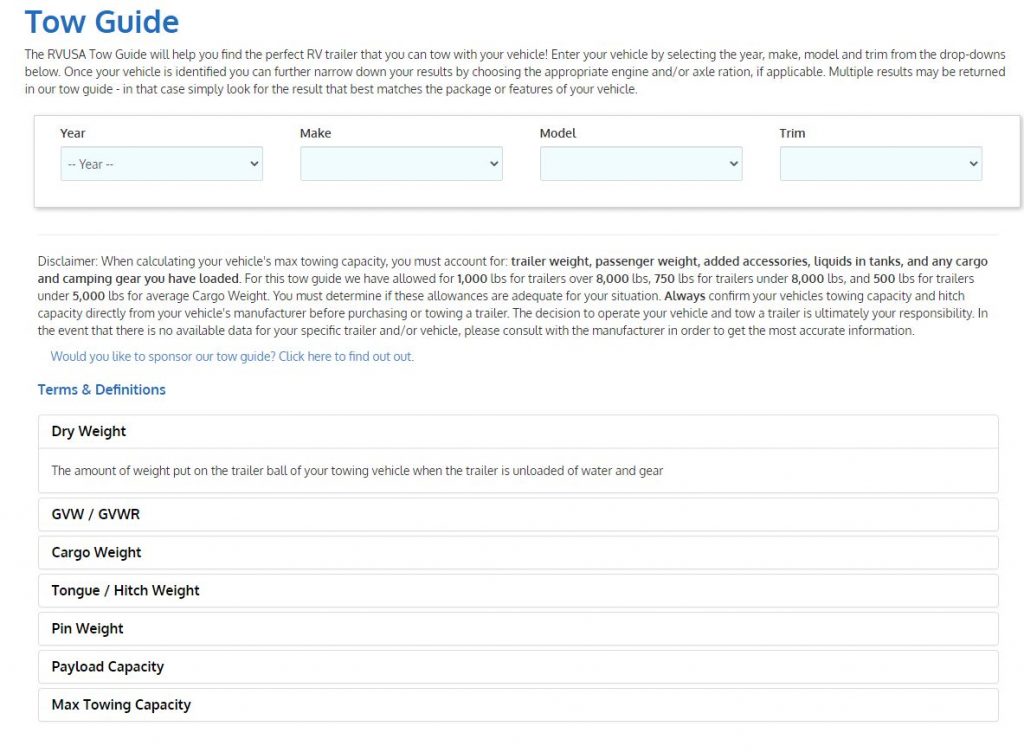 No matter what you are looking for in a camper, RVUSA has it. They are a massive online classifieds site where you can find RVs for sale throughout the entire county. You can browse used RVs, new RVs. Look for RV dealers in your area or buy from private sellers. You can even use RVUSA to sell your RV if you need to do that too!
Make sure you keep up with RVUSA and everything we are doing on our new On the Go with RVUSA Facebook Group!