The 2017 CrossRoads Sunset Trail Grand Reserve is a lightweight, luxury Travel Trailer perfect for a small family or a couple looking for an RV that provides tons of features at an affordable price. The 2017 Sunset Trail Grand Reserve has 6 different models ranging from the light ST26BB model to the bigger ST33RL model. Each model comes with the same standard features and differ in layout, size and dry weight. Check out all of the Crossroads Sunset Trail Grand Reserve on RVUSA!
In this week's Featured RV segment, RVUSA puts the spotlight on the 2017 CrossRoads Sunset Trail Grand Reserve ST26BB. This is the smallest model in the Grand Reserve family but makes up for it by being the lightest with a dry weight of 6425 pounds, a GVWR of 9394 pounds, and a carrying capacity of 2669 pounds. Each Sunset Trail Grand Reserve model come with the same features and what the ST26BB lacks is storage space, thus making it ideal for smaller groups of friends or families.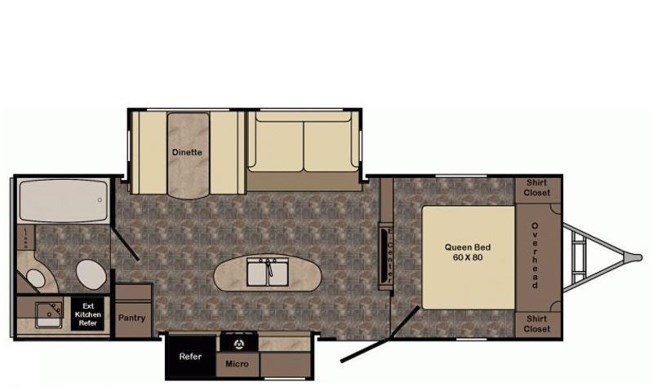 The main room in the ST26BB is the living room/kitc hen seamlessly combining the area with 2 slide outs, one for the couch/dining area and the other slide out for the oven, microwave and refrigerator. The bathroom is towards the back of the RV and packs the tub/shower, sink and toilet into an efficient space. The bedroom is to the front of the RV and features a queen bed and 2 cabinets to either side of the bed. Overall, the RV has plenty of living space for 2-4 people and packs a ton of amenities into a lightweight, luxury RV! Check out the 2017 CrossRoads Sunset Trail Grand Reserve ST26BB.