Out in Tucson, Arizona, you will find the #1 RV sales dealership in Arizona! Pedata RV Center specializes in Arizona and Nationwide online RV sales. They sell used and new RV's and they can ship! You can find motorhomes, travel trailers and fifth wheels and find one of the best deals on the market. You will find the lowest prices anywhere on the lot or online and know that you are getting an incredible recreational vehicle!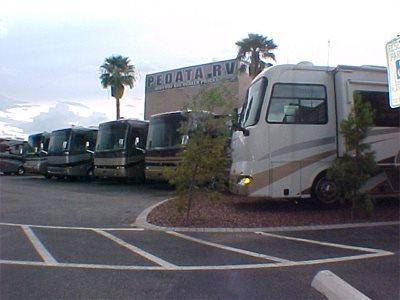 Search Pedata RV Now!
You can search from their large online inventory of RV's and motorhomes and find whatever you need according to YOUR budget. Their sales team is never here to pressure you, but to help you find exactly what you are looking for at or under the price you want. You will find brands such as Holiday Rambler, Damon, Monaco, National, Fleetwood, Winnebago and more! Contact Pedata if you are looking for a price assessment of your own RV or looking to sell!
You can search for the unit type, brand, price range, year, length and even weight. All of these RV's are backed by their quality guarantee if you buy at the showroom or online! You can also find RV's with blow out pricing, on sale and new arrivals!
What Pedata RV Offers
Pedata RV has interest rates as low at 3.99% on selected units! They are offering Good Sam warranties on their inventory as well and you can ask about their fly and buy program! This program can actually pay to get you to their location. They understand that although they may currently house your perfect RV, you may not be able to get there very easily to pick it up or drive it home. This program can help with that. The main requirement is that you must buy an RV if they are helping with these arrangements! How intriguing does this sound? Call today for more information on these options! 888-545-8314.
As you can tell, this dealership is unlike any other out there! They truly have your best interest in mind and go above and beyond to offer options that are going to help you find your dream RV. Are you finding that the RV you want is still out of your budget? They offer financing options so that you are still able to purchase it!
Oh, Canada
If you live in Canada, just know that they offer sales to all of you as well! They work with specific dealers as well as individuals. They can provide all of the necessary paperwork to import the RV across the border, so you do not have to worry about everything. You are able to access all of their RV's for sale and get all the details that you need right online!  Check out their site for more information on the little paperwork needed from you to make sure everything goes as smoothly as possible.
Get ready so save THOUSANDS when you buy with Pedata RV Center. Their inventory alone is absolutely remarkable and offer only the best RV's and the best service. They always go the extra mile to make sure that you get exactly what you are looking for at the best price possible. Please do not hesitate to reach out to us for any questions and find out how you can get your dream RV delivered to you!