Welcome to the Lone Star State! Texas is known for everything from the best BBQ around to the live music on every corner. Did you also know that in Nacogdoches, Texas you can find one of the best RV dealerships in the area? Genuine RV Store is a complete discount dealership where you can find your dream RV and any parts you may need as well. They have New RV's Used RV's a full Service and Repair Shop and financing options are available! This dealership is one of the best and if you haven't had a chance to check it out, add it to your bucket list.
New RV's at Genuine RV Store
Are you looking for the perfect new RV to bring home? Genuine RV Store has a huge selection for you to choose from. Whether you are a seasoned RV owner, or new to this life, they can help you find exactly what you are looking for. From fifth wheels to travel trailers and toy haulers as well, they have something for everyone!
Here are some of the RV's on the lot that you can keep an eye out for:
2020 Keystone Alpine Fifth Wheel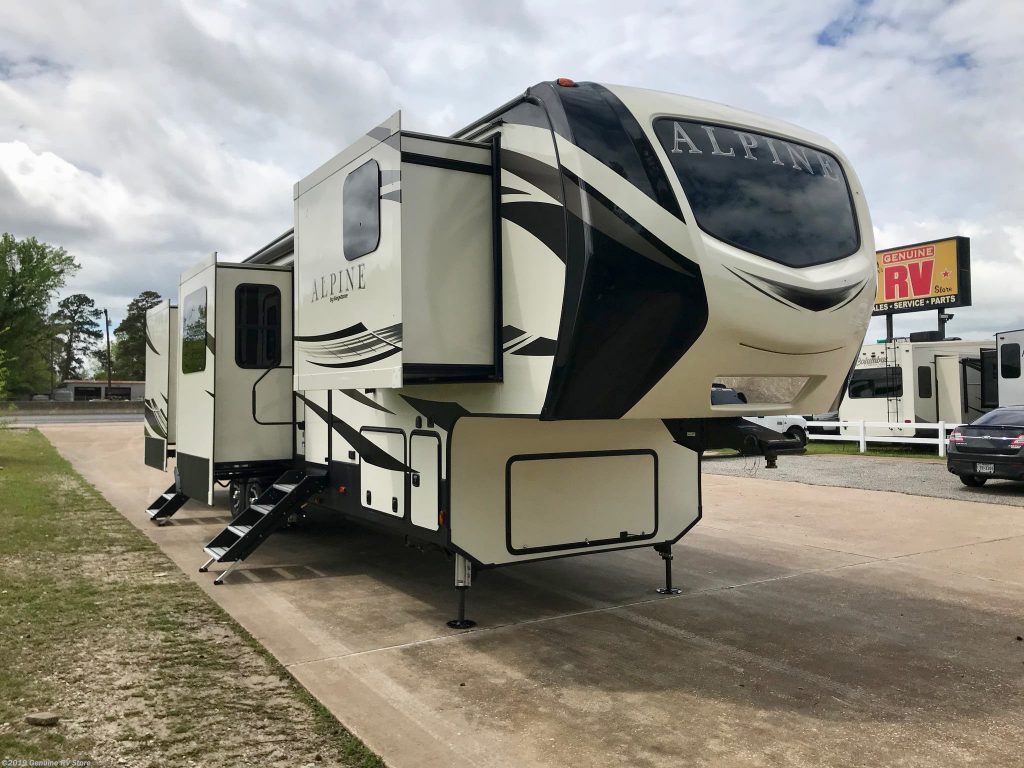 This 3801FK floor plan is perfect if you want spacious and luxurious. The interior design is absolutely stunning and has a comfortable living area with theater seating. You will love the custom wood trim and tons of storage. There is a residential style kitchen with gas oven, refrigerator, (with freezer and ice maker) convection/microwave oven, and solid surface counter tops!
Forest River Wildwood Travel Trailer
This is a great example of the beautiful travel trailers you will find on the lot. It offers a bunkhouse floor plan with a huge living room and your very own private bathroom. There is plenty of room for storage in each sector of the RV and is equipped with custom cabinets! Forest River is known for making beautiful yet efficient trailers, and this is no exception. Go check it out while it is still in stock!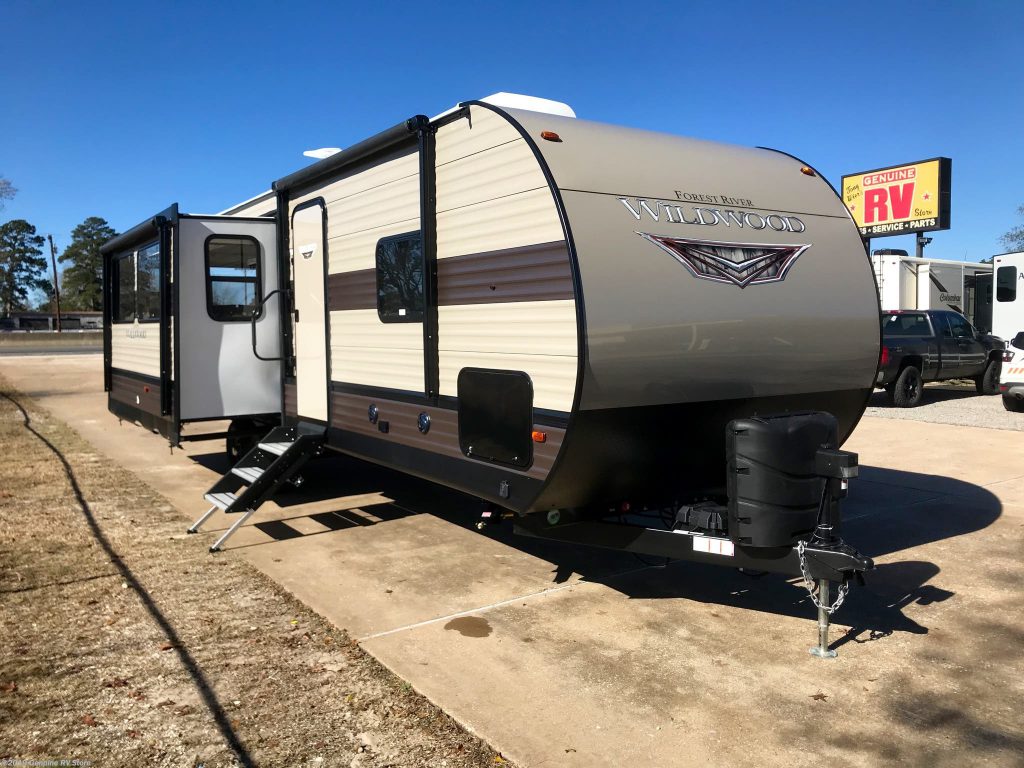 This dealership has over 90 NEW RV's available. They carry travel trailers, fifth wheels, toy haulers and ultralite travel trailers! Go check them out today!
 Used RV's at Genuine RV Store
Genuine RV Store also offers used RV's. Used RV's are great because you can usually find what you want and get it at a great price! It also leaves room in your budget for complete customization and putting that extra money towards any specific upgrades you want.
2019 Keystone Cougar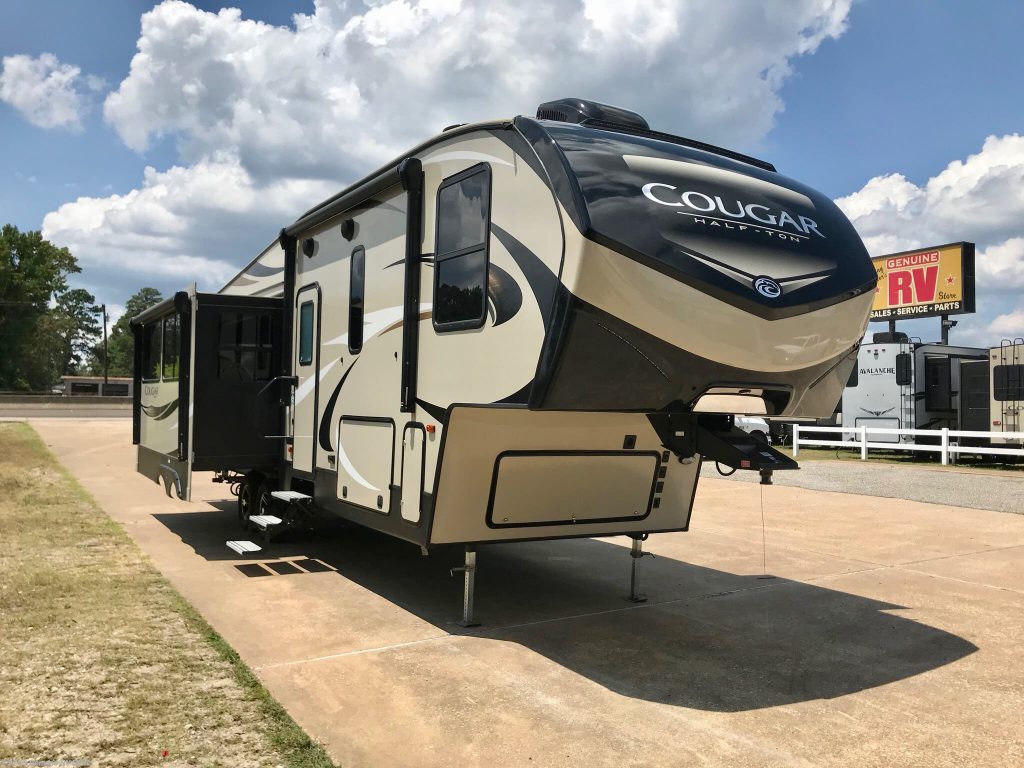 Come check out this great deal! For just an estimated payment of $293 a month for 12 years, you can pay your way at an affordable rate to owning your very own RV. This fifth wheel is in pristine condition. It offers two opposing slide outs in just the living room alone! There is a front bathroom with a queen bed as well. It comes at a great price and incredible features.
Parts and Services at Genuine RV Store
The only thing more important than the RV itself, are the parts inside that make it run properly. Knowing your RV and how it works is crucial to be a long lasting RV owner. At Genuine RV store, they make sure they are available when you are learning more about the ins and outs of your RV and are always there to help.
They believe that service after the sale is everything. They offer years of RV service and repair experience so you can always feel good about going to them after your initial purchase.
If you find that you are having any issues with your RV, bring it down to their shop and they would be happy to take a look.
Currently they service and repair the following:
-RV Air Conditioners & Heaters – Coleman, Dometic/Duo-Therm, Suburban
-Leveling Systems – Lippert, BAL
-Appliances – Atwood, Magic Chef, Suburban, U-Line, Splendide
-Refrigerators – Dometic, Norcold
-Plumbing & Sanitation – Thetford, Sealand, SHURflo
-Awnings – A&E, Carefree
Genuine RV is one of the best RV dealerships in the south. They sell the best brands and models of RV's and are always available to help you when you need it. And on top of that, they are proud to offer an additional military discount! Genuine RV store is a great place to begin a lifetime of family memories. Call today for more details on how you can take home one of their amazing RV's!