Let's take a look at our featured dealer of the week: Courvelle's RV in Opelousas, Louisiana. Courvelle's is the place where the price you see is the price you get. No hidden fees.
They have a large selection of new and used RVs or sale from big names lie Crossroads RV, Shasta RV, Dutchmen, Coachmen, and Forest River.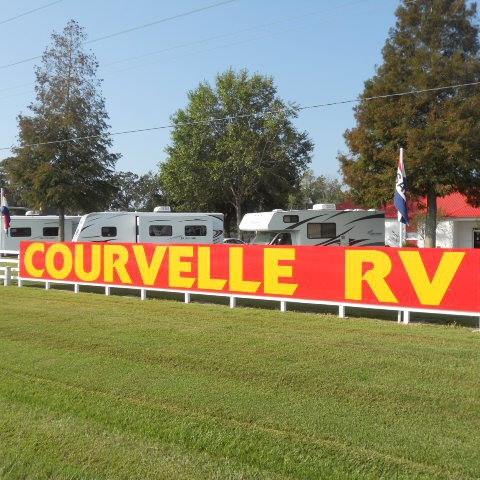 Service at Courvelle's
Don't let any of your RV problems get you down! Just call Courvelle's skilled technicians and let them handle your RV repairs. Their fully equipped service center will tackle your big job or small ones like oil changes. The staff in the service center can handle maintenance repairs, interior or exterior upgrades, warranty work and insurance claims like an unplanned blowout. Courvelle's service specialists will get the job done in a timely manner.
Courvelle's RV is also great at performing preventative maintenance to your RV. Maybe you've found a few cracks in the seals of your motor home, or you've noticed it's time for your roof to be resealed. They remove all old seals and clean the area before they replace the seals with new sealant. The service department will also help you maintain your appliances and explain the right preventive measures to you so you can keep things running smoothly.
Courvelle's Part Department
Do you love your RV and want to keep it but maybe add a few upgrades? Again, Courvelle's can help you with that too! Their parts department has strong relationships with RV companies like Crossroads, Cruiser, Forest River and Keystone. They'll be able to help you find those hard to match parts that you might only be available from the manufacturer.
Are you looking for a service center that can deal with your insurance company? Look no further. Courvelle's RV deals with several insurance companies on a daily basis, like Dometic, Atwood, Airxcel, Lippert, Easycare and RvCare. If you have an accident with or in your RV, they can take care of the claim for you. You simply provide Courvelle's with a claim number and your insurance's name and they'll do the rest.
The Courvelle's Team is Here To Help
Got questions? Go ahead and contact Courvelle's RV for any questions you have pertaining to your RV. Their friendly and knowledgeable staff will be there to support you and help you find the answers you're seeking. Courvelle's RV team will address any questions you have pertaining to purchasing a brand new RV, gussying up your existing unit, warranty problems and any other concerns you might have. Their awesome sales staff is ready and willing to show you the latest Courvelle's have to offer as well as a large assortment of previously owned RVs including motor homes, travel trailers and fifth wheels. Their service center and parts department have a strong relationship with several RV manufacturers expanding their knowledge base. This gives them the chance to solve a wider range of complications you might encounter with your RV. No matter what your RV-related concern is, you can always count on Courvelle's to give you the right answers.
Courvelle's has a whopping 65 units available right now when you go through RVUSA. Give them a call at 1-877-233-6708 or visit their website today!