2021 Deals on Cyber Monday RV Camping Accessories You Need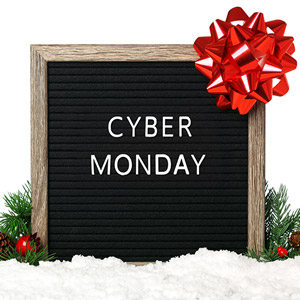 These days, Black Friday is just the launching pad for all of the holiday shopping sales to come. Even though many shoppers spend Black Friday online, we still dedicate a day of deals just to online storefronts on Cyber Monday. These savings are everywhere on the Monday after Thanksgiving, and they're a great distraction from heading back to the office after the holiday weekend off. Cyber Monday sales can cover everything from high tech kitchen appliances to crafting supplies, which means there are plenty of Cyber Monday RV living deals out there that campers can take advantage of! If you've been hoping to upgrade your RV tech, add some new toys for adventures or decorate your campsite, Cyber Monday is a great time to save on these goals.
We're here to help you save this holiday shopping season. We rounded up the best Black Friday deals for RVers, and now we've done the same for Cyber Monday. To help you take advantage of this massive retail sales day, we combed through the sales for Monday and found all the best items for RVers. These are all part of Amazon's early Cyber Monday sales, so you can take advantage of them right away. Read on for our guide to Cyber Monday for RVers!
Start your Cyber Monday RV life shopping by upgrading your RV security system and detering campsite theft with these
wireless, weather-resistant outdoor security cameras
. They're sold by an Amazon brand called Blink and are a competitor to companies like
Ring
. RV camping sometimes happens in the most remote areas, and these cameras will give you peace of mind that no matter where you camp, your RV is accounted for. And they won't quit in bad weather or drain your RV battery! These cameras have a two-year battery life of their own and are easy to attach to your RV before you head out on your next camping trip. The best part? The savings on this tech is incredible! Usually these cameras would cost you $250, but for Cyber Monday you can snag them for more than $100 off.
Campers are getting more and more creative with their campsite setups these days, and a set of twinkle lights is a popular accesory. Use this 48-foot string of
LED market lights
to bring your campsite ambiance up a level. These warm lights will look beautiful strung along your campsite to shed light on nights spent with a cold drink and Jimmy Buffet this summer.
Inflatable Stand Up Paddle Board
Enjoying water sports has become even easier with these inflatable stand up paddle boards. We know RVers have to be conscious of how many toys they bring along on their travels because space is limited! But these are perfect for traveling with as they can be deflated to store then re-inflated in just a few minutes to use. Stand up paddle-boarding is a relaxing way to enjoy nature on your RV travels. While these paddleboards would usually run you upwards of $250, you can save nearly $100 on them as part of Amazon's Cyber Monday RV camping deals.
Halo View Fitness Tracker
This smart watch-style
fitness tracker
will help count your steps and heart rate when you're adventuring around the great outdoors. Never wonder how many calories you burned or steps you took on your hikes again! Use the Halo watch to track your activity and even your sleep quality. This is a more affordable alternative to the
Apple Watch
or the
Fitbit
, especially with Cyber Monday RV living discounts. You can add this watch to your workout routine for only $50 during the sale.
Who doesn't want to curl up with a good read on your RV couch or underneath your awning? Make reading easy for kids and adults with the Amazon Kindle. These popular e-reading devices are perfect for camping families because it saves so much space. You can have all your favorite books without having a massive bookshelf of books. They're all stored in this sleek, small device. Being able to save $40 on a Kindle for Cyber Monday means you can get one for yourself and another for the kids to use for homework.
Cable and RVing don't exactly go together. So how are you supposed to watch all of your favorite shows and movies? Stay entertained in your RV with the Amazon Fire TV Stick. This device gives you access to Amazon Prime movies and shows as well as apps for just about every channel out there. Simply plug into your RV's smart TV, connect to Wi-Fi and start streaming! It's the perfect thing to have on hand for rainy days when outdoor adventures are out of the question. The Cyber Monday RV deal on this one is 20% off.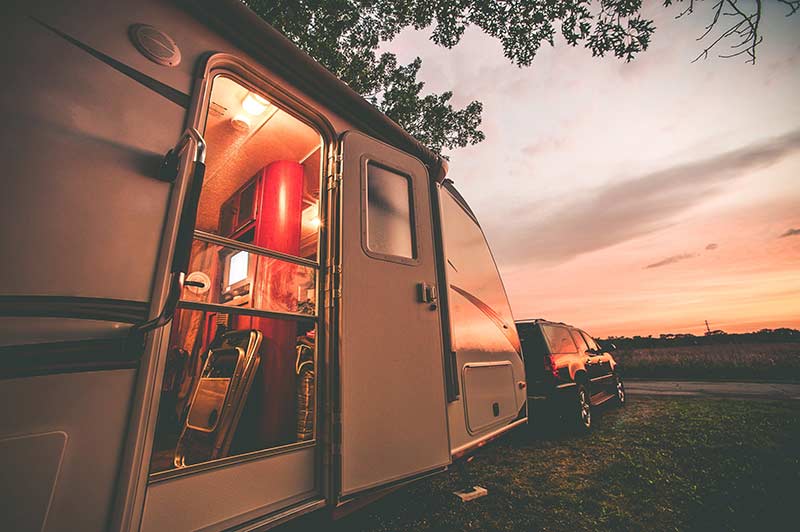 Need a rig for your holiday travels?
Cyber Monday RV Camping Deals
Whether you're looking for some entertainment on the road or you want to reach some new fitness goals as you travel, this list of Cyber Monday RV lifestyle deals will help you achieve just that. With all the savings on RV essentials, you'll have more to spend on your upcoming travels!
We don't just round up great RVing finds on Cyber Monday. We do it all year long! Check out our full RVUSA Amazon Essentials page for more recommendations on RV essentials for everything from security to maintenance.
More Cyber Monday RV Deals
This post contains affiliate links. RVUSA.com will receive a small commission at no cost to you if you make a purchase using these links. We appreciate your support!
Ready to find an RV for your adventures?