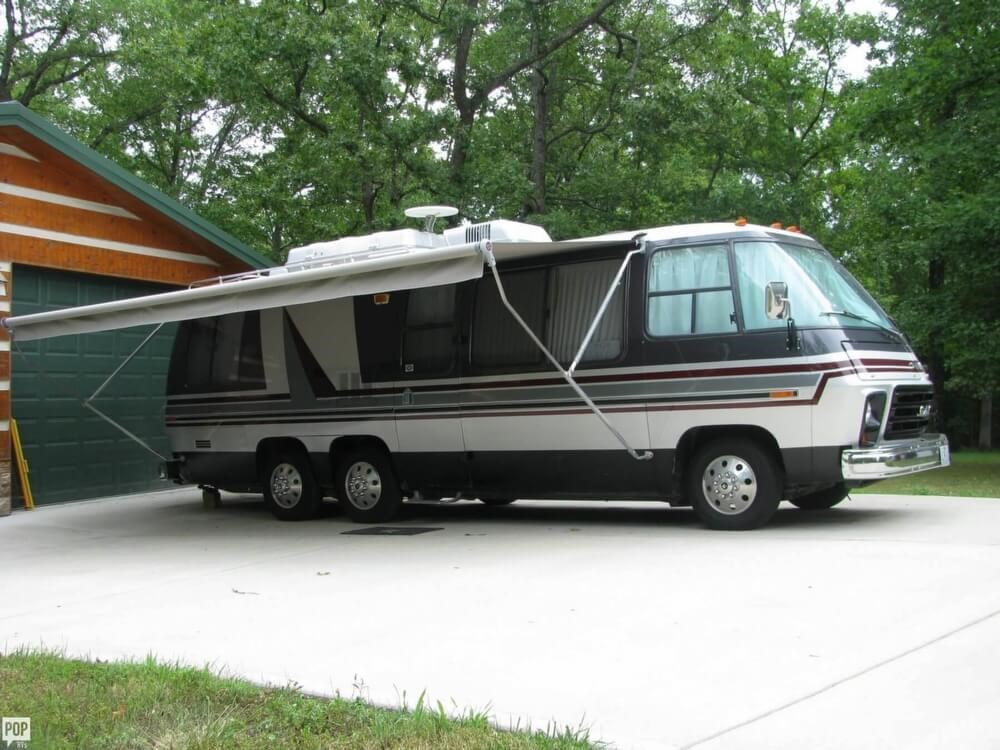 This vintage 1977 Palm Beach Motorhome by GMC 26 has only 35,603 miles and is in good condition. These GMC motorhomes have some of the most active communities of owners in the world, the largest of these groups is the Family Motor Coach Association which has more GMC owners than anything else.
This was a very popular recreational vehicle when it was produced and it's being rediscovered by a new generation of RV owners today and for good reasons. Not only is it a classic but it was built so that the interior would be very flexible which makes it an ideal vehicle for recycling for modern needs. Today's generation of Palm Beach owners are restoring and upgrading the vehicle so that it meets today's standards by adding new technologies and interiors. Some call vehicles that have undergone this process the "26-foot, 12,000 pound antique hot rod with plumbing".
History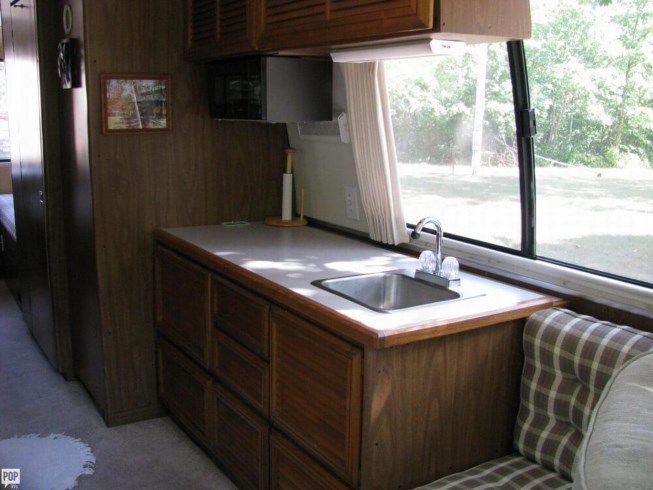 In 1972 GM officially announced it's intention to build a motor home. At that time it was known as the TVS-4, Travel Vehicle Streamlined. The shape of the vehicle was created and refined by first making 1/8 scale clay models of the intended finished product. Once the design was approved a full-size clay model was made and further refined before production would begin.
The GM motorhome had a front-wheel-drive transaxle, called Unified Powerplant Package by GM. It was originally used in the Oldsmobile Toronado and Cadillac Eldorado. The engine used regular gasoline that was stored in two 25-gallon tanks. It also had front disc brakes and drums on all four rear wheels.
These motorhomes were built in two lengths, either 23-foot or 26-foot though most of them, 90%, were made in the 26-foot length. However they are all 96″ wide and 9′ tall including the roof air conditioner. The interior head room is 76″ tall.
One of GMCs most notable features when it comes to their motorhomes is the large expanse of windows, which changed the RV industry at the time. They also stayed away from materials that could rot in the body skin and frame of the motorhome which gives them a reputation for being one of the most restorable and rebuildable vintage motorhomes to this day.
GMC motorhomes that are in good condition and working order are comparable to modern RVs when it comes to their efficiency and drag coefficient, which also makes them prime restoration targets among vintage enthusiasts.
This Particular Unit's Information
The exterior of this 1977 Palm Beach is in great condition and has been lovingly maintained. With grey and maroon striping down the sides it's a beauty to look at. It also has roof air conditioning unit, spare tire, and side awning. All in very good condition.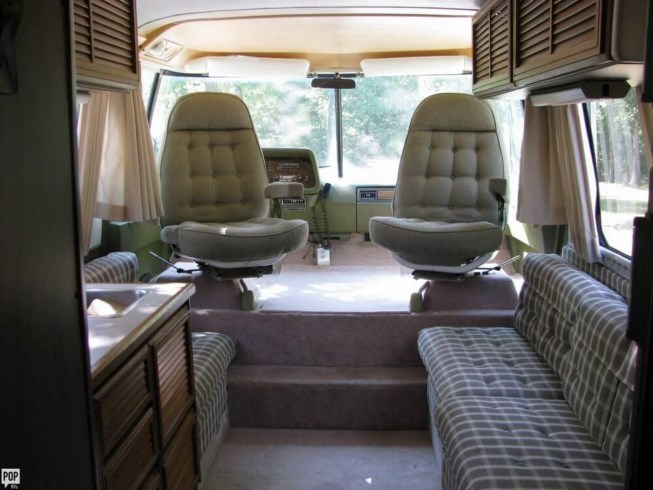 The interior is also in great condition with a color-scheme that reflects the era from which it was created. Greens, browns, and off-white combine beautifully to maintain this vintage RVs history as well as the orange accents in the bathroom.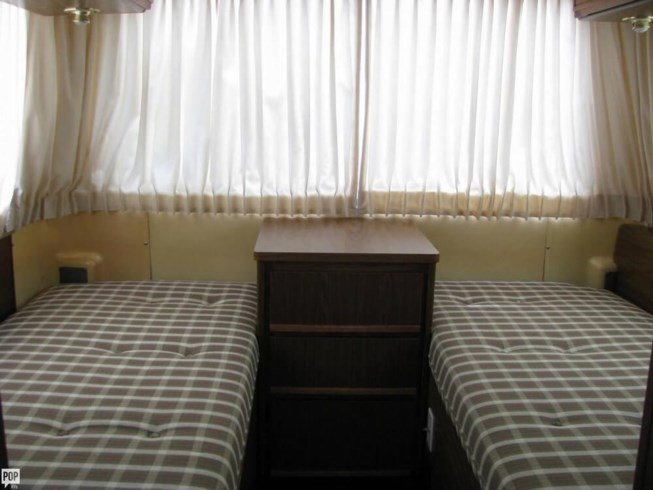 This Class A, 1977 Palm Beach by GMC is 26-foot in length and priced at $28,900! it is equipped with a General Motors engine that has only 35,603 miles on it. It is in great condition and looking for its new owner to step forward. It is a great find for any vintage enthusiast to own and take on the road in its current state but could also be a great vehicle to upgrade to more modern standards for a great vintage RV experience with all the comforts of today.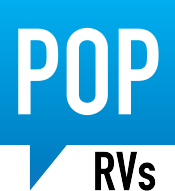 If it's a retro bargain you're looking for then this vintage 1977 Palm Beach motorhome by GMC is just for you. It is available for you at POP RVs in Sarasota, Florida.