Distinctive in its day, coveted by collectors, and recreated for fans of all things retro, the Winnebago Brave, with its flying W and over-the-windshield brow is a classic motorhome in the RV world.
Exterior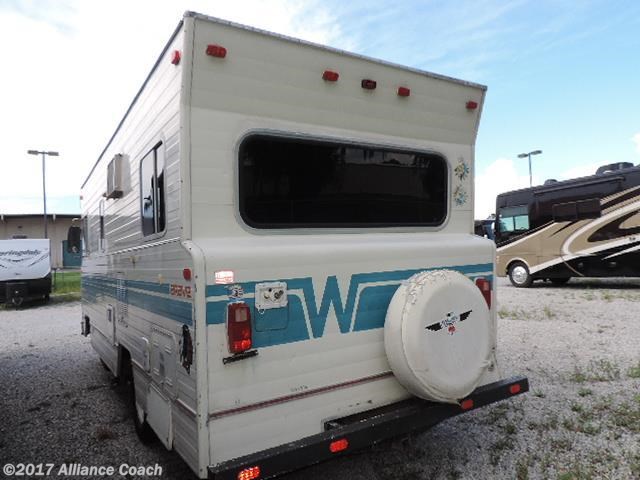 So popular was the family-friendly Brave in its heyday of the 1960s and 70s, that in 2015, Winnebago relaunched the "eyebrow" Brave, with retro styling remade hip and modern.  While it doesn't quite match the $4,000 purchase price of the first Braves, the relaunched Brave remains a family-focused RV.
But, why buy a modern copy of the original when you can own a real vintage Winnebago Brave for a fraction of the cost?  Running and ready to restore, this 1976 Winnebago Brave model D-21, is camp-able right off the lot, but is truly a canvas for anyone who loves the groovy style of the 1970s.
The Winnebago Braves were renowned for their durable, weather-proof, Thermo-Steel Construction atop a hefty Dodge chassis powered by a 318-cubic inch V-8 engine. This nice 1976 Brave Class A is a compact 21-foot, 4-inch long, 7-foot, 5 inches wide, with a 10-foot, 6-inch exterior height, and 6-foot, 5-inch interior height.
Even at more than 40 years old, this unit retains its original equipment and has clocked a measly 56,000 miles. The clean white exterior with the original blue flying W are sure to make an impression. This 1976 Winnebago Brave is a model D-21, one of three models available that year. The original was offered in a very-70s color scheme choice of kumquat, sauterne or mustard. Marketed in its 1976 debut as a "full-size motorhome that almost anybody can afford," was never truer for than for this vintage bargain today.
Interior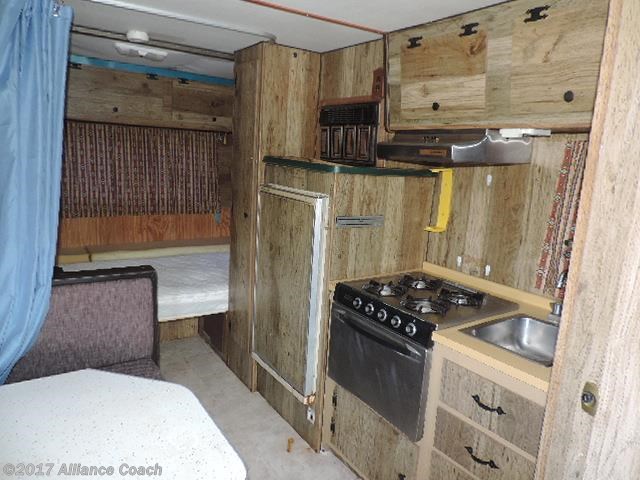 Considered the coach that "made America fall in love with motorhomes," the Winnebago Brave is legendary design that still hasn't lost its hip edge as demonstrated by this cool motor coach.
This unit retains much of its original '70s hues, including its original vinyl and stain-resistant upholstered swivel cockpit seats. The cockpit itself includes a swath of the original carpeting, and includes the original wood paneling that continues through the unit.  This 1976 Winnebago Brave comes with its original 3-speed automatic transmission and power steering with tilt steering wheel column.  Enjoy the view from this retro gem through huge front and side windows.
A cozy vinyl dinette with original table sits across from the original kitchen.  Find the original six-cubic foot refrigerator, four-burner range with oven and hood, single stainless-steel sink, and lots of upper and lower storage space. This kitchen was stainless steel, before stainless steel was cool.
The 1976 D-21 model Brave features sleeping room in the back with a lounge that converts to a sleeping area with wardrobes and a curtain that pulls across for privacy.  When it's time to relax by day, a large picture window spans the back of the unit. The dinette converts for additional sleeping area.
A simple, but adequate wet bath features a marine toilet and corner sink.
This unit offers fans of vintage RVs options. With its low mileage and solid construction, tweak it and take it on the road today. Or, consider an all-out vintage restoration project.  Make it new, yet pay homage to its 70s roots with vibrant window coverings and updated upholstery, modern lighting and refinished cabinets with fresh hardware.
Availability of the 1976 Winnebago Brave

If it's a retro bargain you seek, or the challenge of a renovation project, consider this classic Winnebago motorhome, offered by Alliance Coach in Wildwood, Fl.