Nothing screams fall more than the aroma of warm spiced apples wafting through the kitchen. Apples are such a classic fall ingredient, and they lend themselves beautifully to camper and outdoor cooking. With such a versatile ingredient, it is hard not to be inspired to try a wide variety of different recipes. Since it can be difficult to narrow down just a few of the best apple recipes for fall camping, we here at RVUSA have attempted to do it for you. Putting together some of our absolute favorites that you need to try for yourself this Fall.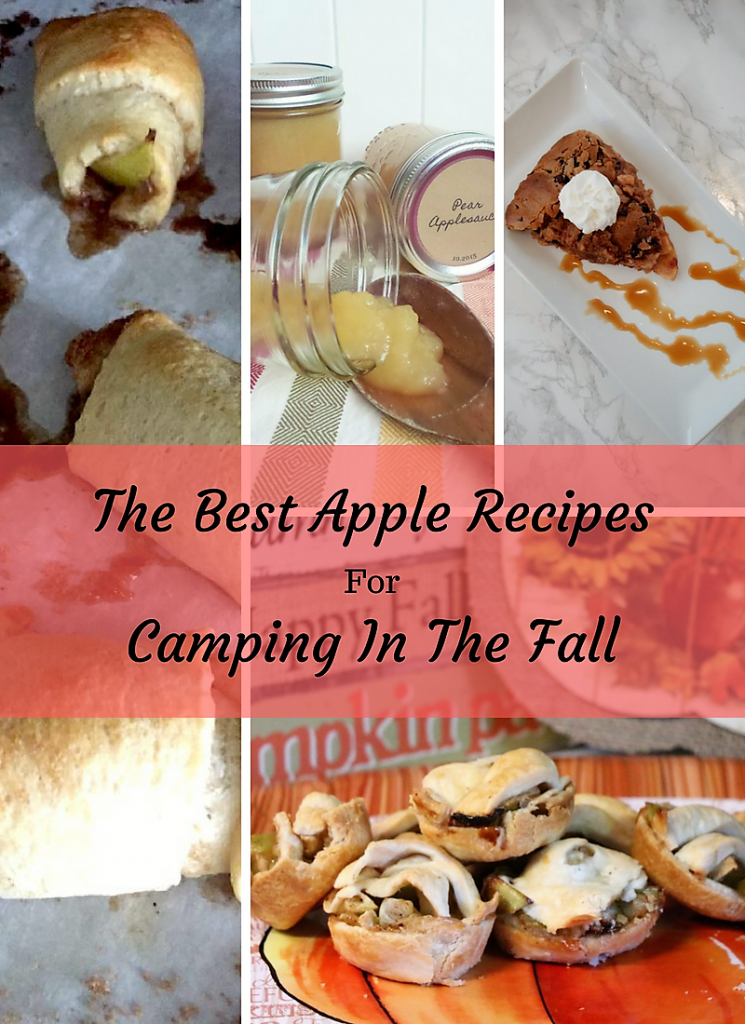 Muffin Pan Caramel Apple Pies
Caramel, Apple and Cinnamon oh my! These may be the top three flavors of Fall, all blended together to make a perfect mini apple pie. These muffin pan apple pies are perfectly easy to make in your camper over. They take very little prep work and will have all your camping buddies coming back for seconds.
Dutch Oven Caramel Apple French Toast
Nothing screams Fall more than caramel and apples, and when you are out camping, a Dutch Oven can be your best friend! This Caramel Apple French Toast is the perfect camping breakfast or dessert and is easily made in your Dutch Oven.
Chocolate Chip Apple Pie
Imagine if your two favorite desserts got together and had a baby. That is what this delicious and inventive chocolate chip apple pie reminds me of. It is sweet, with all the flavors of Fall yet with a distinctive flavor all its own from the chocolate chip crust. If you are looking for something outside the box, this recipe is a must try for sure.
Cinnamon Apple Bites
If simple is what you crave, then these cinnamon apple bites are the perfect Fall apple dessert for you. With only a few basic ingredients, these apple pie bites can be made easily in any sized camper kitchen, and will everyone talking around the campfire!
Pear Applesauce
Camping with kids? This pear applesauce is the perfect spin on a classic kid friendly snack. Easy to make, simple to store, and pleasing to even the pickiest of pallets!
Apple Pie Overnight Oats
Sometimes when you are camping, you want an easy breakfast. Maybe you are boondocking but don't feel like cooking over a fire…These apple pie overnight oats are the perfect Fall friendly apple breakfast for when you just don't want to cook. Make them the nigh before, and you are good to go for breakfast in the morning.
Slow Cooker Apple Spice Cake
There is something so Fall about a Slow Cooker to me. I love being able to create something delicious by just setting and forgetting it! I mean, who really wants to spend a ton of time in the kitchen when you are out exploring the great outdoors? This Slow Cooker apple spice cake is the perfect way to use your slow cooker to make a delicious and easy Fall dessert.